Bond Issuance on Hyperledger Blockchain
BondChain is subscription to a reference implementatio of Bond Issuance and Trading Marketplace. Subscription features a purpose-built production-grade layer consisting of Fabric + Smart Contracts + APIs + CI/CD designed to fit future production-grade implementations. Key features include peer-reviewed, proven design, performance guarantees, recurring security audit, and templates for compliance with KYC, AML and PCI regulations.
Features and Benefits
Purpose-built production layer

Fabric + Smart Contracts + APIs + CI/CD designed to fit future production-grade implementations. Integrate with your own UI


(Java, .Net, Node.JS), databases (Oracle, DB2, MS SQL), and ERP (SAP).




…




Peer-reviewed, proven design

This reference implementation has been designed with the input and peer-review by engineering, security and business teams


across banks, insurance companies and FinTech startups. 




…




Performance Guarantee

Quarterly benchmark of performance of the reference deployment via automated benchmarking harness for multi-node, multi-region


deployments.




…




Security Audit

Security audit is no easy feat even for a superstar team. Security Advisory Specification, and monthly updates from our


engineering team will guide your team through internal or external audits.




…




Compliance (KYC, AML, PCI)

Subscription comes with a template for compliance with KYC, AML, PCI, MSRB, Sarbanes-Oxley Act 2002, The Regulated Covered


Bonds Regulations 2008 (UK), and the European Covered Bond Council.




…




Member Services, Role-based Permissions

Select roles, set permissions upon beta launch, expand as you move to production. Roles available – Organizer/Admin*, Issuer*,

Investor*, Intermediary, Market-maker, Regulator/Auditor* (* – required)

API-programmable financial instruments

Terms of the bond contract are codified in a smart contract, making financial instruments truly programmable, available through 

an API, and through web and mobile applications.

Automation of Market Discovery, Payments

Issuer and Investor discover each other directly on the blockchain. Coupon payments, payment of principal/maturity events 

are triggered by the terms defined in the smart contract.

Confidential Transactions

Financial agreements can be decrypted and executed only by its counterparties. Other members support order and persistence but 

cannot see confidential data.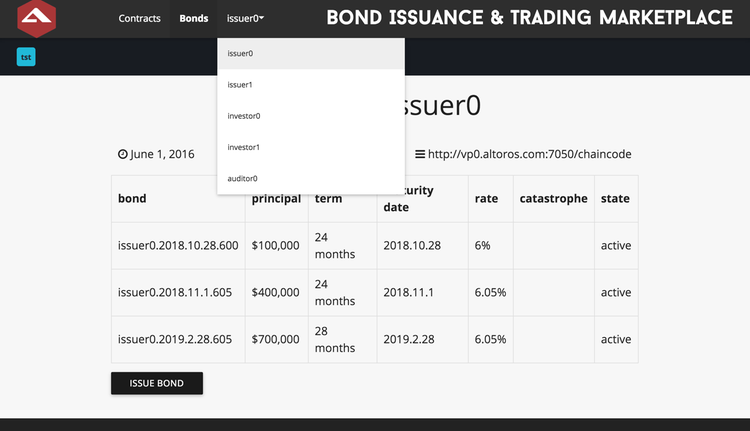 BASIC SUBSCRIPTION & SUPPORT
PRIORITY SUBSCRIPTION & SUPPORT

TERM 1 YEAR

TERM 1 YEAR

Instant Deployment to IBM Bluemix
Instant Deployment to IBM Bluemix, IBM Blue Box on Softlayer (OpenStack)
Custom Onboarding, Deployment & Customization
Custom Onboarding, Deployment & Customization
Email & phone support
48 HOURS
Email & phone support
4 HOURS
SLA Response Time

48 hours

SLA Response Time

4 hours
Contact us with subscription and support request