Setting up a cloud platform and deploying apps is what everyone is talking about, but, in reality, most efforts are spent on maintenance, support, and various day-two tasks. Regular upgrades, provisioning HA of apps, services, and the platform's components, ensuring best performance, etc. are just as challenging and require considerable DevOps skills.
Have day-two issues addressed
Altoros's cloud team has implemented, benchmarked, tuned, improved, as well as developed and integrated apps/services for PaaS implementations built on Cloud Foundry and other platforms. We provide contributor-level, full-stack expertise in CF and other cloud technologies to help organizations troubleshoot and support cloud-based distributed systems.
Ensure that your cloud platform is working as expected
Achieve 24/7/365 availability: Know that your PaaS, IaaS, apps, and services are always up with HA, monitoring, backups, auto-recovery, logging, etc.
Benchmark and tune performance: Find and eliminate any bottlenecks to get the most out of your infrastructure investments
Update with zero downtime: Have your platform and services upgraded by professionals, safely and without downtime or data loss
Get 24/7 support: Have experienced cloud engineers answer your questions round the clock
Build your own operations team
A member of the Cloud Foundry Foundation with a portfolio of 500+ successful projects, Altoros provides in-depth, contributor-level expertise in Platform-as-a-Service, cloud-native development, and related technologies.
Our R&D engineers performed multiple benchmarks of big data and cloud systems; some of these studies were published by CIO.com, NetworkWorld, ComputerWorld, TechWorld, and other industry magazines.
"In the development of CloudPaaS, NephoScale chose to partner with Altoros, a leading Cloud Foundry systems integrator and consulting firm. NephoScale's CloudPaaS will be one of the industry's first fully managed, 24/7 supported, SLA-backed private PaaS offerings based on Cloud Foundry 2.0."
Bruce Templeton, CEO of NephoScale
"Altoros helped Elim Biopharm explore the benefits of Amazon Web Services to automate analysis of DNA sequencing data and design a disaster recovery plan."
Yilin Zhang, CEO of Elim Biopharmaceuticals, Inc.
Start building your PaaS operations and support team today
Talk to our expert
Eugene Lahansky
Cloud Foundry Solutions Coordinator
eugene.lahansky@altoros.com
+1 (650) 265-2266
Headquarters
830 Stewart Dr., Suite 119
Sunnyvale, CA 94085
Related Services
RELATED LINKS AND VISUALS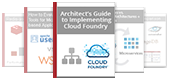 Guides
Architect's Guide to Implementing Cloud Foundry (look inside and download)