Cloud-native, container-based platforms are increasingly complex, incorporating multiple technologies on each layer of the stack. How do you ensure that your system is secure throughout and achieve full compliance with industry standards, e.g., HIPAA, PCI DSS, etc.?
Prevent security breaches
Over the years, Altoros has created security solutions for customers across a variety of industries, including such highly regulated domains as healthcare, the public sector, and finance. We provide in-depth expertise in solving and preventing security issues on all levels of PaaS deployments, including IaaS, cloud platform, applications, and services.
Meet industry standards
Secure PaaS operations: Have security pros handle access rights and user management on your PaaS; get integrated with enterprise authentication systems
Provide app security: Ensure that all code deployed to the platform passes the required tests; take full control of interactions between components/apps/services
Achieve standard compliance: Make sure your cloud system meets industry security standards: HIPAA, PCI DSS, etc.
Improve PaaS security: Get expert advice on best practices; learn how to harden deployments and enable additional security features
Prevent security issues: Reduce human error and minimize the possibility of security breaches with continuous integration and better processes
Building Cloud Solutions for Highly Regulated Industries
A member of the Cloud Foundry Foundation with a portfolio of 500+ successful projects, Altoros provides in-depth, contributor-level expertise in Platform-as-a-Service, cloud-native development, and related technologies.
Our R&D engineers performed multiple benchmarks of big data and cloud systems; some of these studies were published by CIO.com, NetworkWorld, ComputerWorld, TechWorld, and other industry magazines.
"In the development of CloudPaaS, NephoScale chose to partner with Altoros, a leading Cloud Foundry systems integrator and consulting firm. NephoScale's CloudPaaS will be one of the industry's first fully managed, 24/7 supported, SLA-backed private PaaS offerings based on Cloud Foundry 2.0."
Bruce Templeton, CEO of NephoScale
"Altoros helped Elim Biopharm explore the benefits of Amazon Web Services to automate analysis of DNA sequencing data and design a disaster recovery plan."
Yilin Zhang, CEO of Elim Biopharmaceuticals, Inc.
Learn how to improve security of your cloud platform
Talk to our expert
Eugene Lahansky
Cloud Foundry Solutions Coordinator
eugene.lahansky@altoros.com
+1 (650) 265-2266
Headquarters
830 Stewart Dr., Suite 119
Sunnyvale, CA 94085
Related Services
RELATED LINKS AND VISUALS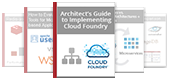 Guides
Architect's Guide to Implementing Cloud Foundry (look inside and download)