Private Data Science Training for Your Team
Build custom Data Science program specific to your team's needs
On-site at your office
Tailor-made to fit your level and needs
Hands-on
Instructor-led
Design your custom program by choosing appropriate topics to meet the needs of your team.
This tailored course is intended for Software Engineers, Data Analysts, Data Engineers and all the others who are planning to bootstrap and operate predictive models in research and production.
It will help your team understand how everything fits together to run artificial intelligence applications and learn how to start from data understanding, continue with feature engineering, and end up creating a production-grade machine learning model.
Why Enroll
Understand how to leverage your data to forecast future events and behaviors to discover deeper business insights
Get practical skills required to spin up predictive analytics pipeline
Learn how to successfully architect, develop and manage Data Science projects
Design Your Training Agenda
Select the checkboxes to include the topics you want us to cover. You can save this form at any time and continue later
Section 1. Machine Learning
Section 2. Data Science Applications
Section 3. Deep Learning
Section 4. Big Data
Our Trainers

Vladimir Starostenkov
Machine Learning Architect
Vladimir has 10+ years of experience in software development. Over the course of his career, he has been part of 15 successful project implementations. Vladimir specializes in artificial intelligence and machine learning, distributed systems design, NoSQL and Hadoop-based systems benchmarking, permissioned blockchains, data engineering, and development of data-centric apps.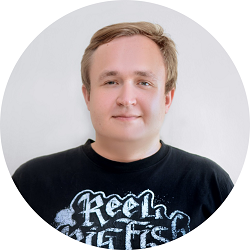 Kanstantsin Buzanouski
Data Scientist
Kanstantsin is a Data Scientist who strives to solve business problems with a defined plan at all stages of the development process. He has considerable hands-on experience in using machine learning and statistical methods in various domains as well as solving business problems starting from problem definition up to model fine-tuning and solution deployment. He is profoundly knowledgeable about current trends and approaches to machine learning.
Customers Speak
"
Biggest value of the course? Combination of conceptual and practical contents. Also, shared personal experiences and views were particularly valuable. .
Arpad Rozsas
Neural Networks and Deep Learning course in Madrid
Great experience. Very knowledgeable and friendly trainers. Biggest value of the course -Practical examples/issues the trainers provided based on their experience
Ramesh Balasubramanian
Machine and Deep Learning training in San Diego
What did I like most at the training? Both high level and the details of machine learning
Gavin Liu
Machine Learning training in Washington DC
The most enjoyable was deep neural nets and seeing some of the largest examples. The most valuable thing professionally will probably be the classification clustering that I have learned K-NN probably.
Mark
Machine Learning training in Washington DC
Fill out the form below to complete your submission