In the world of tiered software architectures, the bigger the project, the harder it is to change, maintain, and scale. It may take years for a new batch of features to reach end-users and the cost of development and maintenance typically increases over time.
Migrate to the cloud without downtime
Microservice architectures consist of simple, loosely coupled components that are easy to build, deploy, scale, and change. Using extensive experience in cloud-native development, PaaS, and containers, Altoros's team can gradually disassemble legacy apps into services without downtime or re-writing everything from scratch.
Adopt best practices for cloud-native development
Build a robust cloud architecture: Let a team of pros design and build your cloud platform from ground up, from selecting the hardware to performance tuning
Switch to microservices painlessly: Get existing apps evaluated and, if possible, adapted for the cloud or have a new microservice architecture built from scratch
Shrink application lifecycle: Go from idea to production in days instead of months with automated build pipelines, developer self-service, and pluggable components
A member of the Cloud Foundry Foundation with a portfolio of 500+ successful projects, Altoros provides in-depth, contributor-level expertise in Platform-as-a-Service, cloud-native development, and related technologies.
Our R&D engineers performed multiple benchmarks of big data and cloud systems; some of these studies were published by CIO.com, NetworkWorld, ComputerWorld, TechWorld, and other industry magazines.
"In the development of CloudPaaS, NephoScale chose to partner with Altoros, a leading Cloud Foundry systems integrator and consulting firm. NephoScale's CloudPaaS will be one of the industry's first fully managed, 24/7 supported, SLA-backed private PaaS offerings based on Cloud Foundry 2.0."
Bruce Templeton, CEO of NephoScale
"Altoros helped Elim Biopharm explore the benefits of Amazon Web Services to automate analysis of DNA sequencing data and design a disaster recovery plan."
Yilin Zhang, CEO of Elim Biopharmaceuticals, Inc.
Discuss your microservices project with our expert today
Talk to our expert
Eugene Lahansky
Cloud Foundry Solutions Coordinator
eugene.lahansky@altoros.com
+1 (650) 265-2266
Headquarters
830 Stewart Dr., Suite 119
Sunnyvale, CA 94085
Related Services
RELATED LINKS AND VISUALS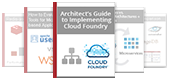 Guides
Microservices vs. Monolithic Architectures: the Pros, Cons, and Cloud Foundry Examples (look inside and download)
Blog Posts
Live Stream: Microservice Architecture Patterns; Riak on Cloud Foundry (read blog post)
Recorded Meetup: Microservices, Docker Containers, Cloud Foundry, and Diego (read blog post)
Recorded Meetup: How to BUild Scalable IoT Apps with Cloud Foundry, Bluemix, Docker Containers, and Cloudant (read blog post)