TensorFlow Cheat Sheet
TensorFlow is an open-source library from Google developed for creating deep learning models. This cheat sheet looks into:
TensorFlow basics (installation, main classes, optimizers, reduction and activation functions, etc.)
how to install Skflow (a simplified interface)
how to install Keras (a highly modular neural network library to run on top of TensorFlow)
a set of Python helper functions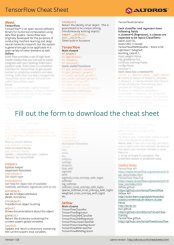 Please fill out the following form so that the printable cheat sheet can be sent to you via e-mail.
Customers Speak
"

We highly recommend Altoros to rapidly build complex applications using cutting edge technologies. Again, great job!

"

Christopher Adorna, Sony